Date: Wednesday 24th March 19:00 GMT
With Alexandra Fairclough, Green Badge Guide for the Bridgewater Canal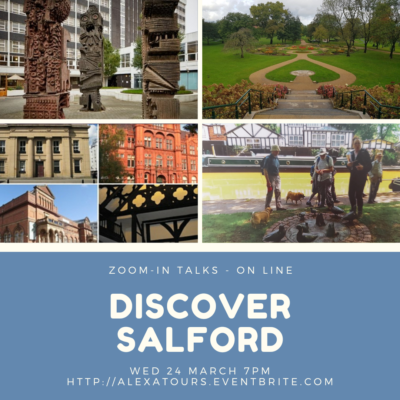 An entertaining and factual tour of the buildings people and places that make this globally important but often overlooked interesting city.
Grab yourself a coffee or tipple and sit comfortably in your favourite armchair. I will then step back in time to show you how our city evolved. Firstly it was a county which included the hamlet of Manchester, then it became the centre of the world.
Unfortunately it was then overtaken in prominence by the powerhouse we know as Manchester. Using maps and images, we will discover people and communities that created Salford and their achievements.
Starting at Greengage Square and travelling up the A6 we will look at Chapel Street and The Crescent and its environment. We'll also take a peek at a few other important Salford landmarks too, including a glimpse of Worsley. 
Hopefully, afterwards you will look at the streets and buildings in a different light. I look forward to meeting you all online.
Cost: £5 plus booking fee
https://www.eventbrite.co.uk/e/zoom-in-talkdiscover-salford-chapel-st-uni-tickets-116594570499