Eccles cakes are a sweet pastry cake filled with dried fruits, usually currants and raisins, sugar, spices and sometimes butter.
The true origins of the cake are not known but the first recorded recipe for something like an Eccles Cake and called "sweet patties" was published by Elizabeth Raffald, housekeeper at Arley Hall, Cheshire in 1769 as part of a book of 800 recipes. The recipe included boiled calf's foot as well as dried fruit.
In 1793, James Birch opened a bakery in Eccles and started to sell cakes similar to Elizabeth Raffald's sweet patties and they quickly became known as Eccles cakes.
Eccles cakes proved very popular and were exported to Australia, America, the West Indies and Spain. Alcohol was added (usually brandy or rum) as a preservative for exported cakes.
Eccles cakes do not have protected status as that afforded to Stilton cheese or Melton Mowbray pork pies, so they are made and sold in many countries across the world.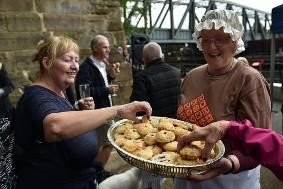 Few places make Eccles cakes commercially in Eccles now. The major manufacturer is the Real Lancashire Eccles Cake company which is in Ardwick, Manchester. A local commercial bakery, Quayside, on the Lyntown industrial estate beside the railway between Eccles and Patricroft stations is the largest producer locally in Eccles. Two local small bakeries also make their own Eccles cakes: Law's bakery on Parrin Lane, Winton, Eccles (near Monton church) and Wards Bakery on Barton Lane.
In 2004 and again in 2013, Eccles cakes made national headlines as Greggs bakery stopped selling Eccles cakes in all its shops, claiming there was no market for them, customers preferring chocolate cakes and muffins. In 2013, during the Eccles Cake Festival, they again refused to stock them, even in their Eccles branch.
Lancashire Fire service have reported that Eccles cakes can catch fire if heated in a microwave oven, possibly due to the sugar content so if you prefer warm Eccles cakes, it is best to reheat them in the oven.
In the 2013 Eccles cake festival there was a competition called the "Great Eccles Cake-off" to find the best amateur bakers including the best Eccles cake. The winner, a Mrs E Charnley of Eccles, received one dozen Eccles cakes as a prize (!)
So, love them or loathe them, call them dead fly cakes, fly pies, fly cemeteries, sweet patties, eat them hot or cold, from a famous chef recipe or an old favourite, enjoy this fine and tasty treat from Eccles, preferably one of the locally made ones!
Elizabeth Charnley is a Green Badge Guide for the Bridgewater Canal.
Check out her website www.charnleysoutdoors.com to contact her directly.